Planned Parenthood opens in Pasco
Posted:
Updated: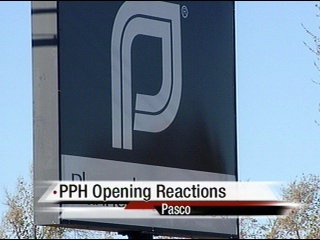 PASCO, Wash. -- Less than a year ago the Pasco City Council approved Planned Parenthood's request to build. Thursday they had a grand opening, but the facility has created controversy within the community.
The facility will provide reproductive health care services such as birth control, testing and treatment for sexually transmitted infections; however, abortions are not performed. They hope to help up to 4,000 people annually.
Some people say the new facility can offer the community great benefits, but others believe they don't outweigh the cost. A big concern for many has been the location. The Planned Parenthood is near an elementary school.
"Because of the school and the church and this is really a family oriented neighborhood, and I just don't think that that's a good place for it," says Joyce Stong, neighbor.
"It's not the people involved. It's the violence it can bring if there are demonstrations or angry parents or angry people associated with it. I'd hate for something to happen and the school is right there. I mean my son plays soccer right there on the field," says John Villegas, parent.
Other community members believe the services offered will be helpful. "I think that Planned Parenthood is a good thing because most parents, like my parents, they never really talked to me about that kind of stuff, so at least somebody is doing it," says Maria Rivera, neighbor.
Planned Parenthood says lately they have not had any problems with the community, nor have they seen protesters.
"I think that people have the right to get the care that they need and the care that they deserve and that's why we're here," says Anna Franks, CEO and President.