Richland City Leaders say BFT needs to move out of offices
Posted:
Updated: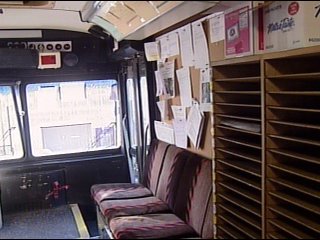 RICHLAND, Wash. -- Ben Franklin Transit is using old buses as offices, but now Richland city leaders say they need to pack up and move. They say it was supposed to be a unique alternative to spending extra money, but Ben-Franklin Transit has to move its workers from buses that were transformed into temporary offices.
The agency says they received a letter from the City of Richland two days ago which stated the buses need to be discontinued by mid-December.
Kathy McMullen, with BFT said on Thursday, "we don't really have a reason, there was none given. We just received a notice of violation and I called the number on the notice today (Thursday), and I was told that if I needed any reasons to contact the City Attorney."
KNDU spoke to the City of Richland on Friday. They say the city and the state of Washington granted permits to house the workers in the buses on a temporary basis only and now that it looks more long term, a more appropriate location is needed.
Richland Deputy City Manager, Bill King says, "as we get into colder weather and there's a need to provide heating to these units to make it a good working space this is really a better solution all around to get a couple of modular office buildings on site."
Ben Franklin transit is in the process of buying the modular office buildings or trailers and moving staff in by the mid-December deadline. King adds the city's fire Marshall expressed concern with possible fire hazards and the buses being unsafe.
McMullen says the agency will spend a unspecified amount of money on trailers for the workers to move into.