Couple sheds combined 174 lbs
Posted:
Updated: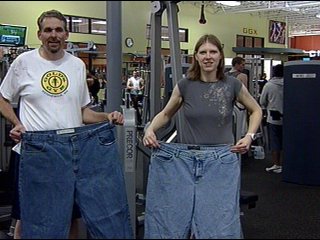 A married couple shares their weigh loss success story with KNDU. They say together, they were able to shed pounds, motivated by looking to the future.
These days, John and Trisha Cochran can often be found working out at the gym. But that wasn't always the case.
John has lost 81 pounds and he says, "my wife is a great baker and we were eating a lot of good food and she would say, 'want to eat brownies tonight?' I said sure and between the both of us, just us two, before we had kids, we'd eat a whole plate of brownies in one night."
The easy access to food and lack of control is how the couple gained weight. But family health problems changed their outlook on how they lived.
Trisha recalls, "my mother died in April of 2009 of heart related issues. She was only 61 and I wanted to make sure I was here longer for my kids than 61."
As for John, he says, "looking at my dad, grandfather, all of them had diabetes and I knew I was going to get it. I was just going to get it. I was just going to accept it as inevitable, just my time."
Seeing their future, the Cochrans set out to fight the fat. In one year, the couple shed a combined 174 pounds. Workouts such as cardio and aerobic were prescribed by their personal trainer. But cutting out the brownies, cookies, and coffee and replacing it with water, carrots, and more home cooked meals had the most impact. With the weight gone, the two are up for any challenge.
"I ran a 12K in May, Bloomsday in Spokane. Never thought I would ever do that. I actually placed 16,000 out of about 49,000 people that ran," says Trisha.
Both John and Trisha continue to shed pounds. They work out 5 to 6 days a week. Trisha is even a trainer at Gold's Gym where she and her husband first started working out.