Snowy six car pile up in Richland
Posted:
Updated: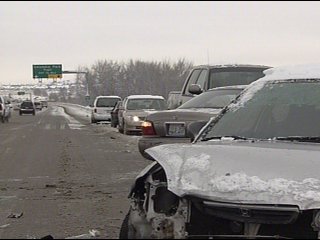 RICHLAND, Wash.-- Six cars piled up on State Route 240 between George Washington Way and Columbia Park Trail around 10:00am Monday.
Troopers say one driver was going too fast and lost control on the slushy roads, causing a chain reaction. Some cars involved even slid to a stop facing the wrong way on the highway.
Trooper Doug Lux says, "I've been out since early this [Monday] morning, and you know 35-40 miles per hour is top speed and even early this morning, that was too fast. Everyone just needs to slow down, be patient, and take some extra time out there." Trooper Lux says fortunately nobody was seriously hurt in the accident.
The driver who caused this accident could be ticketed for driving too fast for conditions. You can actually get a ticket for driving too fast for snow, ice, or rain, and too fast doesn't always mean over the speed limit. Trooper Lux explains, "Yes, you can get a ticket for going 45 miles per hour in a 60 zone or 70 zone. Just because it's too fast for conditions and if you lose control of your vehicle and cause people to make evasive moves or hit you, then it's your fault."
If you're caught speeding in the snow it's a $124 ticket, more if you cause an accident because of speeding in the snow.
Troopers say slow down and leave extra room between you and the car ahead of you.