What to do if you get into an accident
Posted:
Updated: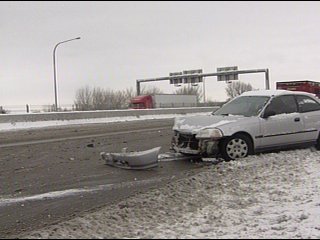 KENNEWICK, Wash -- It's going to be a White Thanksgiving, and the commute to get anywhere is less than smooth. Hundreds of accidents reported in the last few days and confused drivers are backing up traffic even more. Sgt. Ken Lattin with Kennewick Police says people need to follow a few rules if they get into a fender-bender. "First of all, if you can pull off to the side of the road, some place where it's safe, do that. And you need to stay, even if you just bump another driver and there's no damage, I'm ok. You've got to stop and identify your self. We've had a ton of those, where two cars bump and one car stops and now instead of just a simple information exchange, we're investigating a hit and run," says Lattin
Then there's the big decision on whether to involve the insurance company, because it's not required by law. "The state considers a non-reportable collision, minor damage no injuries, the information exchange is all that's required," says Lattin.
But Mark Monteith with Harvey-Montheith Insurance in Kennewick says that's risky. "If you don't involve the insurance companies, you just put yourself at risk for not getting paid for someone that hit you if they were at fault." Monteith says if there is any sort of injury, you must file a claim and you can do so by calling the 800 number on the back of your insurance card.
"Call that number, get set up with an adjuster and the adjuster will then walk them through the process, find out if anyone is hurt and if you need to see a doctor. And then take care of your car too. You can take it to any body shop to have it fixed. There's just a certain number of body shops that certain companies recognize, called preferred shops," says Monteith.
Preferred Shops work with the Insurance Companies and make it easier for the customer to get paid. Monteith says it's very important to review your policy every year. There is no such thing as "Full-Coverage" and you must make sure car rental insurance and towing is included if that's what you want.

And if you need any help or more information contact the Insurance Consumer Hotline, at 1-800-562-6900.