Why did Richland School District not cancel classes?
Posted:
Updated: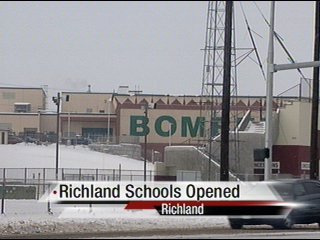 RICHLAND, Wash. -- Many schools canceled classes Wednesday due to the snow and ice. The Kennewick and Pasco School Districts did, but not Richland. Parents called KNDU, wanting to know why Richland didn't close their schools.
School leaders tell KNDU there were two reasons. One: Wednesday was a half day. Two: School staff didn't think the roads were bad enough to keep everyone home.
There were no classes for Elementary School because of teacher conferences, but high school and middle school students had a half day because of Thanksgiving.
The Transportation Director's morning begins at 3:30 AM to check out the roads and determines if it is safe to drive or not. Then, he makes a recommendation to the superintendent.
Steve Aagaard, the Communication Director for Richland Schools says, "what our staff tries to do is make the best determination they can after looking at the conditions of the streets; what the current weather is, how safe it is and they make a recommendation. The district realizes that not everybody is going to agree with every decision that we make on these closures and departures."
Student Tammana Mohamad says, "it should have been canceled because the roads are slippery and I had to walk there too. I almost fell down."
Many Richland High School students went sledding after they finished their half day. However both Kennewick and Pasco School kids got a break and no school Wednesday.