Yakima shoppers spend the holiday away from home and at the mall
Posted:
Updated: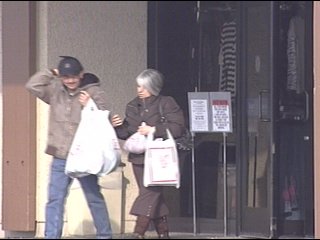 YAKIMA, Wash. – Most of the parking lots were empty at the Valley Mall on Thursday but a few had cars for the handful of stores that were open on what's increasingly being called "Black Thursday" by retailers.
Old Navy was one of the stores trying to get back in the black one day early by offering deals on Thanksgiving and staying open for most of the day.
"We got the turkey in the oven and I'm shopping away so my husband just called and said the turkey's almost ready so perfect day for me," said Kristy Thurmon outside the clothing store.
Sears was the only anchor store open with limited hours in the morning. Shoppers outside the department store said they already celebrated the holiday with a family meal earlier in the month so they wanted to use the day off at the mall.
"My husband, it was his idea. We already did our dinner," said Phyllis Musgrove.
Customers at all stores agreed the best benefit of Black Thursday is the shorter lines and would recommend it to others.
"We came today because there weren't so many people, tomorrow's going to be pretty crowded," said Musgrove.
Shoppers also hope that Thanksgiving day deals don't catch on with everyone so they can keep the experience to themselves. "
Yeah but I don't want too many cause then it will be too crowded," said Thurmon.
Some retailers like Toys 'R' Us are trying other strategies. The toy store will open at 10 p.m. on Thursday night and staying open for more than 24 hours into Friday.
Best Buy will keep to the old tradition of opening early with lots of deals in the morning on Black Friday. The electronics store will open at 5:00 p.m. but people had already marked their spot in line the afternoon before at the front of the line.