Weather puts damper on Small Business Saturday
Posted:
Updated: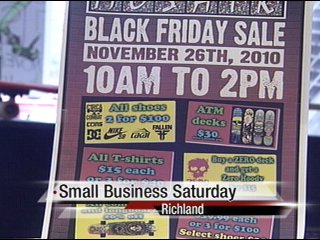 RICHLAND, Wash -- According to preliminary reports published by CNNMoney.com, crowds were bigger and people walked away with arms full of goodies this Black Friday, but shoppers spent only modestly more this year.
With shoppers scooping up discounted items, total sales rose a slight 0.3% over last year to $10.7 billion, while customer traffic increased 2.2%, according to ShopperTrak, which records sales and customer traffic at more than 70,000 stores and malls.
Locally it's still too early to tell. At the Uptown Shops in Richland, many business owners and managers agreed the weather put a damper on shopping.
"So far it's been kind of slow, mainly because of the weather. However, people have been coming in and looking at some of the bigger priced items, that people usually look for gifts this time of year," says Dick Ward the manager of Music Unlimited.
Kylie Barth, a sales clerk at Aunt Franny's Toys agrees. " It's actually been pretty slow because a lot of the snow has kept the people from going outside compared to last year, it's been pretty slow," says Barth.
But Keri Rosenfeld at Mosaik Board shop says its still better than a regular weekend. "Today isn't as busy as yesterday was. Its still going pretty good, compared to a normal Saturday, it's better than any normal Saturday.'
Small businesses account for 98 percent of all employers in the state of Washington...and they employ 56 percent of the private sector workforce.