White Pass begins a new season, expansion yet to open
Posted:
Updated: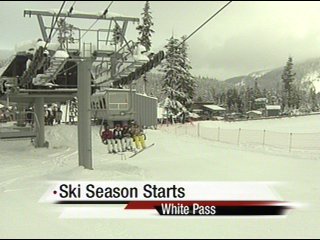 WHITE PASS, Wash. - The lifts were up and running again on Saturday for the first time this season as skiers and snowboarders arrived on the mountain for an earlier opening than past years.
"So stoked, just awesome, waiting for the season forever and just kinda waiting and it's finally here," said Michael Dejournette of Yakima.
The ski resort has a new ticketing system and staff promise more parking this season. This weekend started with limited operations but that could change in a couple weeks along with the opening of the expansion.
"It's a typical opening," said Kevin McCarthy, the general manger at White Pass. "We have about 30 inches in the base, close to four feet on top so the conditions are good for opening."
In the last two years, the start of the season was in mid December followed by mid November.
Even though the resort was not at full operations and access to the expansion is still not available, loyal skiers are simply glad to be back at the base.
"It's just a good size mountain, I like it," said Ryan Clark. "I've been skiing it since I was five so it's just kind of home."
Turnout was larger than normal on Saturday for an opening weekend. Staff say the new season has high expectations with a strong winter ahead and more options with an expanded resort.
"I'm really pumped to have it fort one year and just hit the runs cause I've been looking at it for 10 years, 12 years just wanting to hit it," said Clark.
The expansion will double the size of White Pass and McCarthy hopes it will have a similar impact on business and tourism for the surrounding communities connected to the resort.