Ballot recount begins in Benton County
Posted:
Updated: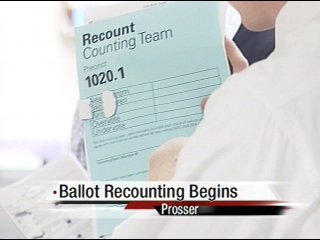 PROSSER, Wash. -- It's officially on, after three and half days of sorting ballots, election workers in Benton County have started recounting for the district court judge race.
Election workers received instructions on the recounting process for the district court judge race between Dan Kathren and Alex Ekstrom.
There's a nine vote lead between the two, which triggered a hand recount, but how much will it cost ?,"the rough estimate that we came up with is about 7,500 to 10,000 dollars and that would primarily be the salary cost for our full time election staff as well as the part time election staff," says Benton County Auditor, Brenda Chilton.
Since Monday, workers have been sorting ballots. So how exactly does this process work out ? "You got to sort them by precinct. That's the first step that the state law which says what you have to do to get them in precinct order. Now that we got them into precinct order, basically all we got to do now is get them counted manually by hand and compare that to the official results," explains election supervisor Stuart Holmes.
Recounts are notorious for taking a long time and costing a lot of money, but Chilton is hopeful this will not be the case, "Well our original target date was next Friday and we're optimistic that we'll be able to finish by that date. Of course, we hope that things will go a little more quickly than that. We were very pleased that it went ahead of schedule and we finished a day and a half early."
Chilton says the cost for the 10 election workers is already covered in the county's budget. There is no guarantee when the counting will end, but when it does, the results will go to a canvassing board to approve the ballots and officially certify a winner.