Salon Monroe holds fundraiser for local baby boy
Posted:
Updated: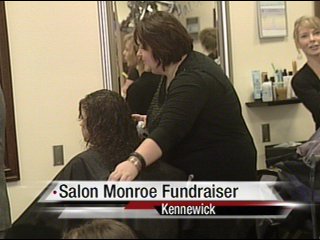 KENNEWICK, Wash. -- Salon Monroe was packed more than usual Saturday but the stylists on the floor weren't just working. They volunteered their time to give haircuts in honor of baby Adin Mercado. The three month old boy was born not breathing and now has permanent brain damage. He has undergone many costly medical tests but currently cannot breathe or swallow on his own.
His mother, Michelle Roberts who worked as a stylist at Salon Monroe, but now stays home taking care of her son. Her employees and many businesses in the Tri-Cities all donated their time, money and prizes for a silent auction to help the family out.

David Mercado, Adin's father says, "It's amazing ..I can't express it, how people can give so much not knowing is beyond me. But I'm appreciative, I can't say it enough, thank you."
Aryn Gray, the general manager of Salon Monroe says she wants Michelle to be able to stay home. "She is taking care of her baby boy. He needs his mom right now and that's kind of where we're stepping in to try to help her and allow her to stay home and take care of him and not have to worry of any of the financial burdens.'
The salon managed to raise well over six thousand dollars Saturday, Sunday, Smithson Chiropractic next door is holding a blood drive in Adin's honor. They'll have Santa Claus and bounce house and will also be taking donations.