Cold Case of Kennewick murdered woman closed, suspect arrested
Posted:
Updated: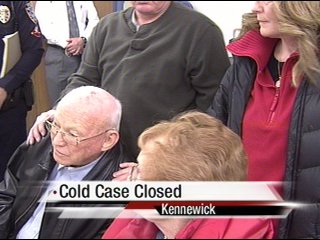 KENNEWICK, Wash. -- A 29 year old cold case may finally have been solved involving a then 25 year old Kennewick woman, Rose Baugh.
DNA evidence has identified the suspect as 56 year old Jack Welch, who was at one point in a romantic relationship with the victim. Welch and Baugh were said not to be dating on March 7, 1982, when she was strangled at her home on 1711 W. First Ave in Kennewick.
Welch was arrested today in Lewiston, Idaho and charged with first degree murder.
Kennwick Police Chief, Ken Hohenberg says he's proud of his department's work. "We had to serve a number of search warrants, try to contact witnesses, follow up with people because of the length of the investigation. And the time that has elapsed, even some of our witnesses have died since that time, so it's been a very challenging case," says Hohenberg.
Kennewick Police Detective Rick Runge has been working on the case for the last five year and aided in the arrest along with Nez Perce County.
Welch had a series of medical problems and was wheeled to jail in gurney. His initial bond was set at $5,000 but the judge ordered him to be released due to the nature of his illness. He is not considered a flight risk. According to documents prepared by prosecuting attorney for Benton County, Andy Miller and Kennewick Police Chief, Ken Hohenberg, Welch does not have enough strength to speak and feed himself. They concluded it would be inappropriate to have jail staff attempt to care for Welch.
The judge now has 20 days to decide if Welch is competent to stand trial, and if he can be extradited to Benton County.