Thirteen city jobs are set to be cut under the 2011 budget
Posted:
Updated: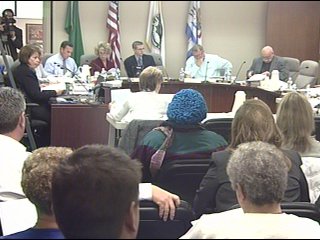 YAKIMA, Wash- Tuesday the Yakima City Council voted to lay off six city employees and eliminate another seven vacant positions. The decision came during this morning's budget wrap-up meeting.
The fire unions opted to take a three percent salary cut to prevent the layoff of two fire fighters, one secretary, the elimination of the deputy fire marshal position, and over time cuts. The three percent cuts save about $200,000. However that still leaves a shortfall of about $255,000 in the fire department. . The council voted four to three to spend $255,000 dollars of reserve money to make up the difference city public safety as the city's priority.
Council members Rick Ensey, Dave Ettl and Bill Lover voted not to accept the firefighter's proposal. They cited the council's decision earlier in the year to set the 2011 budget without dipping into the city's reserve funds.
"My duty as a council member is not to people who are employed here at the city; it is to the tax payers and to make sure we have a balanced budget", says Ensey.
The fire department was pleased with the city's decision to accept their proposal.
"Its nice for the firefighters to offer up a 3% wage decrease, just in order to provide a better service for the citizens", said interim fire Chief David Willson.
Willson noted that this will allow the department to keep functioning, but he says they are at the bare minimum needed to protect the city. According to the interim chief, a city the size of Yakima should have 120 firefighters. The Yakima Fire Department currently has 86.
At today's meeting the council largely opted to accept all of the proposed cuts . Under this afternoon's vote one development engineer, one code compliance officer, and four information systems employees will lose their jobs. On December 14 the council will convene to review the budget again, and they are scheduled to give a final vote at that time. If this budget is approved $433,000 would remain in the city's reserves.