Holiday Hope Trees raise money for Autism
Posted:
Updated: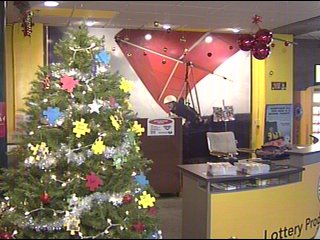 KENNEWICK, Wash.-- The next time you're at a Tri-City Americans game, you might notice a new Christmas tree in the Toyota Center.
But it's not any ordinary tree.
It's a part of the Carson Kolzig Foundation's "Holiday Hope Trees" benefit. Several businesses around the Tri-Cities have put up these trees. The hope is that people will buy an ornament for a minimum donation of $5. The money will then go to help the Responding to Autism Center provide services for families challenged by autism.
"This venture were hoping to raise, optimistically, about 15,000 dollars in the month of December," says Carson Kolzig Foundation Founder, Olie Kolzig. "Every dollar that is raised with this foundation is directly at some point going to come back to the Tri-Cities."
Kolzig also says the average annual cost for a child with autism can be up to $80,000. The money raised will go towards helping families afford autism screenings and therapy at the Responding to Autism Center.
You can find one of these trees at any of the following locations:
Any home Tri-City Americans game at the Toyota Center
C. Speck Motors in Sunnyside
Hall Chevrolet-Buick in Prosser
Speck Hyundai in Pasco
Nouveau Skin Care and Day Spa in Kennewick
Kolzig and his Foundation are still looking for other businesses that would be willing to put up a tree for this event. If you are interested you can call Kellee Balcom of the Carson Kolzig Foundation at 509-528-4144.