Couple auditions for game show
Posted:
Updated: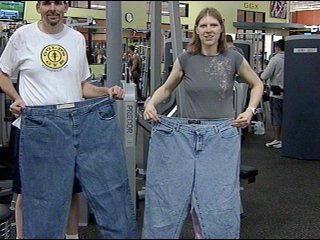 KENNEWICK, Wash. -- Back in November, KNDU told you the story of John and Tricia Cochran. The Kennewick couple that shed 174 pounds.
But, their story didn't just reach you, it also got to producers of NBC's game show minute to win it. Those producers encouraged the couple to audition for the show. But when that phone call came, the Cochran's didn't believe it, "Shocked and surprised and I didn't believe her at first. I did not believe who she was, and I never heard of the show before, so it's just a big shock."
Since the news, both John and his wife have been preparing for the show, "John did the Oreo on the forehead to get it down to his mouth without using his hands. And I did the pencil on the back of the hand, and you have to flip your hand up and catch the pencils ... up to 12."
"Minute to Win It" is based on contestants involved in ten challenges using household items and doing it in ten minutes. Supervising casting producer Luke Conklin explains that the show looks for people with inspiring stories and lots of energy, "You know it's always ideal to find somebody that has those dreams and passions and there's something going on in their life where it's like wow, this would be amazing if they were on this show and they won this money, what that could do for their life and how it could change their life would really make an impact."
And looking at their story, Tricia and her husband hope to do just that, "Anyone can do this. It doesn't take a miracle. I mean just hard work and anyone can do it."