Gambling addiction prevalent in Tri-Cities
Posted:
Updated: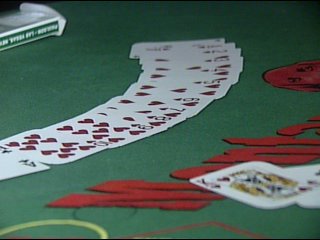 RICHLAND, Wash. -- Gambling is a big problem affecting the lives of 3.9% of the population. Jim Mason, a certified councilor, and administrator at Recovery Pointe in Richland sees it affect people locally.
"Here in Benton County that's 5,748 people and in Franklin that's an estimated 2,391 people. People with gambling addictions have marriage problems, financial problems and legal problems. I've seen people not making their house payments, not making their telephone bill payments, not buying food simply because they're out at the casino. They're out gambling it," says Mason

Average gambling related debt by those seeking help is $29,639 and approximately 17% of those with gambling problems have had suicidal thoughts. Up to 1.9% have made attempts.
Gambling is raked in almost $2.3 billion dollars just in 2010. But there are few things that can be done to help those with problems. The owner of Atomic Bowl and Joker's Casino, Max Faulkner, says they can't ban people with addictions. "It happened where the person put themselves on the barring list and snuck in and then tried to blame it on the card room. So we pretty much have to go from the standpoint that they're adults and they're 18 and older, 21 and older and its up to them to control their problem. We don't really anymore bar people in our establishments but we do council them to get help," says Faulkner.
Faulkner says Jokers does provide pamphlets of information and 1-800 help line number to those individuals who need help. Also, every casino must pay a small tax which goes to treating people with gambling problems.
College students are also gambling more and more. 25% of college students buy lottery tickets and 20% of them visit casinos, 12% play games with cards, dice or games of chance.
But whether gambling is an addiction is still up for debate within the research community. If you feel you need help, you can contact Jim Mason with Recovery Pointe at 509-943-8484. They are state funded and will find a way to make their service affordable for those with a problem.