Americans Bring Down T-Birds, 4-1
Posted:
Updated: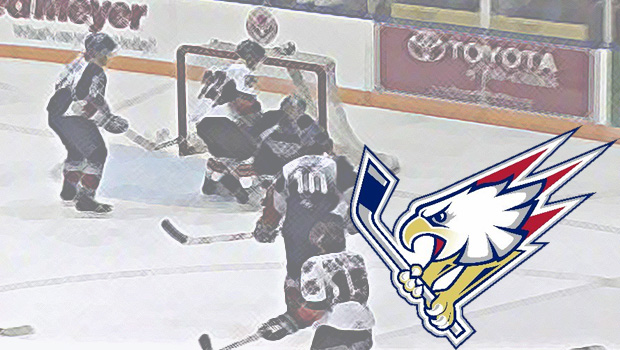 KENNEWICK, Wash. -- The Tri-City Americans defeated the Seattle Thunderbirds 4-1 Friday night at the Toyota Center in Kennewick in the first game of a home-and-home series between the two teams.

The T-Birds and Americans face each other Saturday night at the ShoWare Center at 7:05 p.m. in the second game of the home-and-home series.

Seattle goalie Calvin Pickard stopped 44 of 48 shots he faced. His record is now 13-9-3-4. Pickard, brother of former Americans goaltender Chet, leaves Saturday morning for the National Junior Team Selection Camp for Team Canada. Tri-City took a 1-0 lead at 1:10 of the first period on a goal from Brendan Shinnimin. Mason Wilgosh and Adam Hughesman had the assists.

Tri-City (17-10-1-1) outshot Seattle 17-7 in the first period.

The Americans went in front 2-0 at 5:06 of the second period on a power-play goal by Brooks Macek. Patrick Holland and Justin Feser were credited with assists on the goal.

The T-Birds got on the board at 11:39 of the second on a rebound goal from Charles Wells. Marcel Noebels fed the puck to Luke Lockhart who carried it up the right boards. Lockhart entered the Tri-City zone with Wells to his left coming down the slot. Lockhart put a hard wrist shot on goal from the right circle that Americans goalie Drew Owsley kicked away with his right pad. The puck came right to Wells and he drilled it high past a lunging Owsley.

Hughesman scored at 17:41 of the second to extend the Americans lead to 3-1. Shinnimin and Wilgosh were credited with the assists on the goal.

Seattle (13-9-3-4) outshot Tri-City 13-11 in the second period but the Americans led 28-20 in total shot after two periods.

Kruise Reddick made a it a 4-1 Tri-City lead with a five-on-three power-play goal at 14:53 of the third period. Shinnimin and Feser had the assists on the goal.

Tri-City outshot Seattle 20-3 in the third period and 48-23 in the game.

Tri-City goalie Drew Owsley made 22 saves on 23 shots and his record is now 14-9-0-1.