Sprinker Scores 16 Second-Half Points to Help Central to a 67-65 Comeback Victory
Posted:
Updated: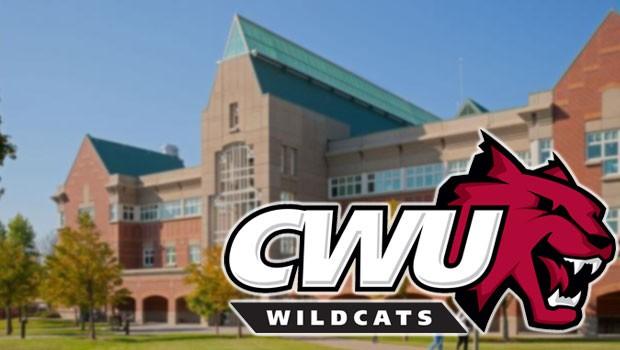 LACEY, Wash. (Dec. 11) -- Senior center Chris Sprinker (Tacoma, Wash./Curtis HS) scored 22 points and brought down seven rebounds to lead the nationally-ranked Central Washington University men's basketball team to a 67-65 come-from-behind victory over Saint Martin's University on Saturday night.
The Wildcats, ranked 12th in this week's National Association of Basketball Coaches (NABC) Division II poll, improved to 8-0 on the season and 2-0 in Great Northwest Athletic Conference play. The Saints fell to 6-4 and 1-1 in the GNAC.
Sprinker scored 16 of his game-high 22 points in the second half, and he made nine of his 14 shot attempts in the game. Also leading the way offensively for Central was senior Jamar Berry (Tacoma, Wash./Franklin Pierce HS), who scored 16 points and also recorded seven rebounds.
Central Washington was unable to obtain a first-half lead and went into halftime down by six points. Central only shot 40.7 percent in the period, while the Saints shot 48.0 percent on 12 of 25 shooting. The Wildcats also committed nine turnovers in the first stanza.
The second half was much different for CWU, as they took their first lead of the game at the 12-minute mark in the second period on a converted three-point play by Sprinker. The Wildcats shot 53.3 percent in the final period and their defense forced 16 Saints turnovers over the final 20 minutes.
The Wildcats made just two three-pointers in the contest, their lowest output since Feb. 22, 2007, and were outrebounded for just the third time this season by a slim 30-29 count. Conversely, the CWU defense forced a season-high 22 turnovers, which they converted into 24 points, and the Wildcats also dominated the paint on the evening, outscoring the Saints 34-12 under the basket.
The Wildcats received solid play from their bench, as seniors Chris Scott (Las Vegas, Nev./Bonanza HS) and Coby Gibler (Bainbridge Island, Wash./Bainbridge HS), as well as junior Jody Johnson (Seattle, Wash./Franklin HS), combined for 22 points on 9 of 13 shooting.
Saint Martin's leading scorer Blake Poole came into the game averaging 15.7 points per game, but the Wildcats were held him to just seven counters and seven field-goal attempts. The Saints were led in scoring by Galen Squiers with 15 points and Jeremy Green with 13.
CWU, which has played its last six games away from home, will continue its road work with a pair of games at the Great Western Shootout in Las Vegas, Nev., next week. The Wildcats face Rollins College (Fla.) on Thursday (Dec. 16) and West Region foe Cal State San Bernardino on Friday (Dec. 17) at 5 p.m. and 3 p.m., respectively.