Child Remembrance Day held in Richland
Posted:
Updated: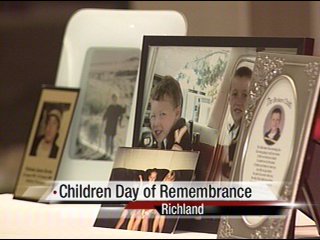 RICHLAND, Wash. -- More than 100 people came to the Sunset Memorial Gardens in Richland Sunday evening to light a candle for a child lost, the fourteenth Worldwide Candle Lighting Ceremony and the 7th annual for the Tri-Cities.
The Compassionate Friends Worldwide Candle Lighting unites family and friends around the globe in lighting candles for one hour to honor and remember children who have died at any age from any cause. In the United States, 150,000 infants, children and teenagers die each year.
The Worldwide Candle Lighting started in the United States in 1997 as a small Internet observance but has since swelled in numbers as word has spread throughout the world of the remembrance. It's especially important this time of year because holidays are often tougher for families who lost children.
Patrick Hollick with Sunset Memorial Gardens says there is great healing power in holding these vigils. "if you say a child's name and remember the child it's like a part of that person still lives on, and it's very helpful for the family," say Hollick.
Grace Medrano lost two of her children. Her daughter and step daughter. She says she needs to be around people who understand her pain. "Coming here has helped some. They also have a meeting once a month, Compassionate Friends in Kennewick, I've been going there too to try to help me out because I lost two of my babies. They were both young and pretty for girls..to me I'm the one that should have gone," says an emotional Medrano.
For more information on Compassionate Friends, click here