Yakima's city council will be headed for a shake up
Posted:
Updated: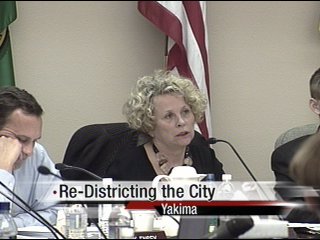 YAKIMA, Wash- There's a movement in Yakima to change the way the city elects its leaders. Chris they are basically proposing a change to the city's charter. It would require that the city's seven elected council members live in seven different parts of the city.
Volunteers were out this afternoon collecting signatures to bring this issue to the February special election ballot. Under the current charter, the city is divided into four districts. During the primary, residents vote for their district representative, but during the general election, any resident can vote for any candidate regardless of where they live. Opponents of the current system say this limits the voting power of areas with lower voter turnout.
"When you start out with districts and then in the end it's a general election at large then it's diluting the vote. It means somebody might be a strong candidate in the primary because the people in their neighborhood are voting for them but in the end the whole city votes for them", says Mary Baechler a volunteer for Central Washington Progress.
The petition circulating would divide the city into seven districts and require that candidates live in their district and voters could only vote for their district's council member.
Volunteers with Central Washington Progress say this would make the city council reflect the city's residents.