Cold Noses, a pet supply drive starts in the Tri-Cities
Posted:
Updated: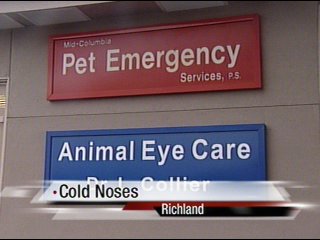 RICHLAND, Wash. -- Two animal lovers are holding a six week drive to benefit the dogs and cats at Benton-Franklin Humane Society, Tri-City Animal Shelter, Pet Over Population Prevention and the West Richland Animal Shelter.
Lisa Gerard with Bark Busters Dog Training and Laurie Ness with Dr. Doo, an animal waste clean up service say there is a big need in the community, that's why the came up with Cold Noses. The drive runs December 7- January 18.
"The shelters and rescues are always in need of funds and supplies. I mean they have a constant stream of animals coming through that they serve for our benefit. So we need to do our part to help supply them," says Gerard.
13 veterinary clinics in the Tri-Cities have set up collections bins. If you want to make a donation you can do so at Animal Eye Care, Animal Hospital of Pasco, Blue Cross Veterinary Clinic, Coleman Animal Heath Clinic, Desert Veterinary Clinic, Double Arrow Vet Clinic, Meadow Hills Vet Center on West Gage, Meadow Hills South, Pet Emergency Services, Richland Animal Hospital, Vista Vet Clinic, VCA Richland Animal Medical Center, VCA Vineyard Vet Hospital.
The items they need include: bleach, laundry soap, paper towels, sheets, blankets, collars, leashes, dog and cat food, animal shampoo, toys, litter (non-clumping), litter pans, PetsMart gift certificates, money donations and 5-gallon buckets.
Feel free to contact Lisa at 947-1596 or Laurie at 430-5338