Gender neutral bible flops in the Tri-Cities
Posted:
Updated: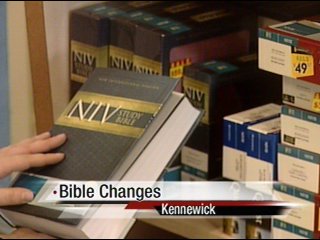 KENNEWICK, Wash -- The world's best-selling Bible is getting an upgrade. At stake are millions of dollars in publishing revenue and the trust of millions of churchgoers.
Since its debut in 1978, the New International Version - known as the NIV - has been the Bible of choice for Evangelicals, selling more copies than any other version. But a 2005 gender-inclusive edition bombed after being condemned as too liberal.
Translators hope their latest edition, which debuted online this month, will avoid a similar fate. They've retained some of the language of the 2005 edition. But they also made changes - like going back to using words like "mankind" and "man" instead of "human beings" and "people" - in order to appease critics.
It's available for preview at BibleGateway.com, with print versions expected in March.
The owner of Parable Christian Book Store in Kennewick, Deanna Brown says they never ordered the new version because people didn't take to it. "It was kind of complicated. Then the company started back-pedaling after they put it out, decided to make some changes to it. So it was just too controversial," says Brown.
A customer at the store, Mary Beth Cain says, "The problems that arise when we have the issue with gender, wording and language...are really obscuring the real truth we need to focus on that salvation is in Jesus Christ.'
Browns says the store did order the gender neutral version for those who asked for it, mostly preachers, priests and pastors interested in studying the bible.