Washington bans lead wheel weights
Posted:
Updated: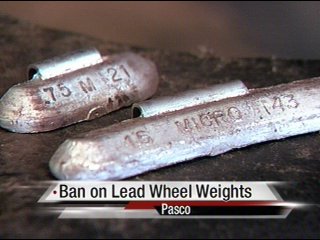 PASCO, Wash. -- Most people don't pay attention to the small banana shaped metal object on your tires. It's a wheel weight. Traditionally these are made with lead, but a new ban to keep the environment cleaner may cost you.
Workers at Perfection Tire in Pasco put these small parts on tires often. They may not look like much, but they keep your tires balanced. Wheel weights made of lead are the choice for workers at the tire shop, but a ban on the lead item is changing things.
"The lead ones, they stay on more, the steel ones, I seem to be in here getting my tires balanced a little bit more," says Perfection Tire customer Mike Mc Bride of Pasco.
The ban on lead means shops will have to switch to steel wheel weights by the start of the new year. And that means spending on new parts, "We've been forced to buy all kinds of steel weights to accommodate different rims and the cost of it is a little more expensive because now you have to have weights to accommodate particular rims for different vehicles out there," says store manager Shane Anderson.
Anderson says the new weights will cost 25 percent more than lead ones. And that trickles down to consumers spending between two to eight dollars more to balance each wheel. But how does a small part pose such a big health risk?
"If you look you'll start noticing wheel weights that have fallen off and are on the side of the roadway. These get ground up and create dust and this gets washed off by water and gets into the environment more broadly," explains Holly Davies of the Washington Department of Ecology.
Most tire stores KNDU spoke with say the lead wheel weights fits better to the wheel. However, all of the tire shops have said they will get rid of the lead weights by the new year when the ban takes effect.