Pasco School Board votes to impose impact fee
Posted:
Updated: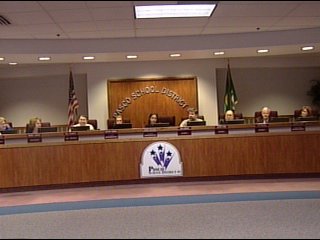 PASCO, Wash. -- Pasco School District leaders are trying to come up with new ways to fund education.
Tuesday night, they voted unanimously to impose an impact fee on new homes built in Franklin County. Their plan, which also will require approval from both the Pasco City Council and Franklin County Commissioners, would impose a $6012 impact fee on new homes built in Pasco and Franklin County. The impact fee would be $5272 per unit in multi-family homes.
Representatives from both the Tri City Association of Realtors and the Homebuilders Association say it's unfair to impose this fee on one group and that it will ultimately hurt development.
"That's why we would support a bond that would go out and target the entire community and if the community supports it, then I believe they think it's a worthwhile cause," said Jeff Losey from the Homebuilders Association.
Pasco School Board members say schools are very overcrowded and it's time to generate some funds to deal with the issue. "I don't like impact fees any more than anyone else here, but if we can't get money any other way and the state is cutting educational budgets, we have to find ways to solve the answer," said school board member Jeffrey Dong.
"We don't have any more room and it's time for everyone to contribute," said board member John Hergert.
Right now, there are no planned bond elections, and one obstacle for this plan, county commissioners have already said they don't support the idea of an impact fee. The ultimate decision on the impact fee issue lies with city council members and county commissioners.