Online shopping: A boost for Yakima wineries
Posted:
Updated: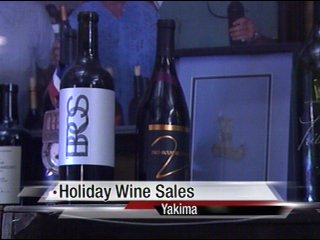 YAKIMA, Wash. -- With about a week away from Christmas, several Yakima Valley wineries say sales are up this time of year compared to last year.
Experts credit the boost in sales to a growing trend of online shopping.
The online option has been great for customers and business, according to managers at Gilbert Cellars.
"We find that they come in here and they're wanting to purchase things, but they might not know until they get home if they want to buy the wine. So they can always go online and order the wines from there," said Laura Rankin, Wine Tasting Manager for Gilbert Cellars.
Although, Two Mountain Winery in Zillah doesn't have online capabilities at this time, owners say it hasn't hurt their sales.
"We do receive phone orders, and we're receiving phone orders daily. And we've been running a holiday special for free shipping," said Patrick Rawn, General Manager and part owner of Two Mountain Winery.
Rawn says the winery has been doing about 30 shipment orders per week and expects more by next week. He adds Two Mountain Winery will be providing free shipping until December 21.
For customers not wanting to shop online or call in for their orders, wineries say you can also shop in person for holiday gifts.
"We encourage people to come into the tasting room and kind of have the whole holiday experience here and walk away with a gift box and some wine," said Rankin.
Wineries say to ensure your gifts have a better chance of making it on time for Christmas, they recommend making orders no later than the end of this week.
For a list of wineries and gift ideas, you can visit Wine Yakima Valley at http://wineyakimavalley.org/.