Still no cause into explosion at Hopstract
Posted:
Updated: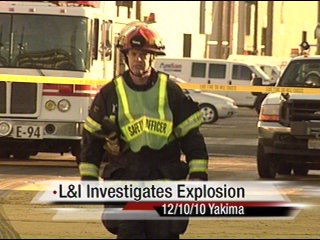 YAKIMA, Wash.. -- Investigators with the State Department of Labor and Industries are looking into whether any safety violations were made that resulted in last week's explosion at the Hopstract facility.
Five workers were injured in the explosion that happened last Friday at around 2:00 p.m. on North 2nd Avenue. Yakima firefighters responded to the accident with four engine companies and one ladder truck.
Firefighters had reported a large, white gas cloud had covered the workers as they escaped the building. Windows were blown out and blast debris was found several hundred feet away from the building.
According to the Yakima Fire Department, a site manager reported a high pressure tank had ruptured inside the building. Firefighters remained on the scene for several hours to monitor the remaining CO2 tanks inside the building.
L&I spokesperson Hector Castro says the department has six months to complete their investigation into the accident.
Castro says four of the injured workers have been treated and released. As of Wednesday, the fifth worker, whose name is not being released, was still at Harborview Medical Center in Seattle, but appeared to be improving.
According to L&I, Hop Extract Corporation of America, who runs the facility in Yakima, has been inspected twice before, along with citations for serious violations.
In June 2008, the company was cited and fined $400 after inspectors say a worker was power washing the exterior of the building from a pallet one a forklift. L&I stated: "The employer did not ensure the work platform which an employee was working from to wash the south side of the building was secured to the forks or the mast of the forklift."
In July of this year, L&I conducted a health and safety inspection and fined the company $200. According to the health inspector, the company failed to properly ground 50 gallon containers holding isopropyl alcohol. The workers transfer the alcohol into 5 gallon jugs, posing a danger of creating a static charge that inspectors say could ignite the alcohol. L&I stated: "The company did not ensure that containers were bonded and grounded when flammable liquids are transferred between containers."
Castro noted that these two citations are not being linked to the recent incident from last week. He also noted that it was too soon to determine the penalties if any violations were made by the company. L&I will continue with their investigation.
KNDO recently spoke to Hopstract General Manager Dave Dunham, who said their primary concern is for the injured workers, with their secondary concern for the workers out of work. Dunham said the company is currently investigating the cause and had no further comments to make on the matter.