Budget cuts reach interpreter programs
Posted:
Updated: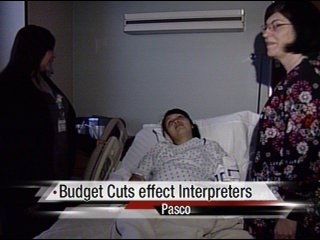 PASCO, Wash. -- In an effort to fill a looming budget deficit , Governor Chris Gregoire announced cuts to several services. One of those provides non-English speakers with an interpreter at hospitals through medicaid.
Lourdes Medical Center in Pasco, for example, has interpreters to help, but now that "the interpreter program" is being cut, hospitals are left trying to figure out how to pay for the service.
Melanie Johnston of Lourdes Medical Center says the hospital remains committed to the service, "essentially, it just means that we will not be reimbursed for some of the services that we're providing, regarding our medicaid translation and medical interpreting services. however, we need to provide those services for those patients so we'll continue to provide them as we do today."
The state hopes to save around $3 million as a result of cutting the program, but in a heavily Latino population, state and federal law permit hospitals (like Lourdes) from eliminating the service.
Lourdes and other hospitals in the area such as Kennewick General Hospital and Kadlec Medical Center offer similar services. They say they will also continue to provide interpreters, but have not said where the funding will come from.
Receiving proper medical care includes risks, but when you can not communicate with doctors because you don't speak English, the stakes increase.
Martina Mendoza is pregnant with twins. Not having an interpreter is a scary thought for her. She says through an interpreter, she doesn't know what she would do without one, and there are many other people like her.
The state's interpreter program actually provides interpreters for medicaid patients, but the interpreters can not be just anybody.
Betty Ramon is the coordinator for interpreter services at Lourdes. She says, "family members, although well-meaning, may lack the skills to provide interpreting services. And they might omit certain information that is important for the patient to know."