Wildlife officers search for poachers
Posted:
Updated: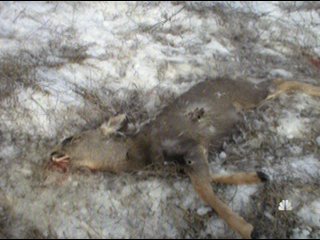 KENNEWICK, Wash. -- State Fish and Wildlife officials are hoping for new information about some recent poaching incidents. They someone shot four deer, out of season, within a four day period.
The deer were found along Interstate 82 outside of Kennewick and now officials are looking for answers.
Officer Brian Fulton says, "those are three, four deer that are dead that could have reproduced more deer and could have provided someone with an opportunity, a sportsman with an opportunity in the hunting season to take another animal lawfully."
An average deer hunting rifle was used to kill the animals but that season has passed. Retailers like Griggs in Pasco keep in touch with law enforcement.
Store manager, Lance Norman says, "typically, if there is a large problem with a particular caliber of firearm, local law enforcement will notify us and let us know to keep an eye out."
Deer poaching is nothing new, but when the carcasses of four deer are found in a very close proximity of each other and all murdered in a close period of time, officials and hunters get worried.
Seth Lochridge is a hunter. He says, "poachers put a real hurting on hunters because it brings Feds out to the hunting areas, it scares bird and deer."
The poachers could face up to $2,000 in fines or a year in prison if caught. There are no suspects in the shootings, but officers hope witnesses come forward by contacting them at their tip line 1877-933-9847 at their web site wdfw.wa.gov or by text at TIP 411 and entering WDFWTIP space and entering your information.