Washington to get 10th congressional seat as population grows
Posted:
Updated: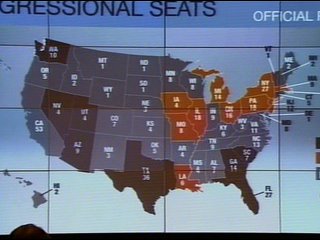 KENNEWICK, Wash. -- After months of gathering and analyzing data, census officials, including former Gov. Gary Locke announced on Tuesday that Washington state's population has grown rapidly enough in the past decade to warrant a new 10th congressional seat.
The state population grew by 14.1 % since the 2000 census, to 6,724,540 million people. The population growth in the West also was very strong, up 13.8 percent. The U.S. average was 9.7 percent, to 308.7 million people. The slowest growth rate since the Great Depression.
As had been projected from preliminary estimates, Washington will gain a 10th district, most likely to be added in the rapidly growth greater Puget Sound region. All of the current districts will be changed significantly, particularly in Western Washington.
Washington Secretary of State, Sam Reed says we can expect to see changes here as well. "The fact that the tri-cities have had such population growth means they're going to have to make some changes over there in terms of the 4th and 5th district, but also there's some expectations in the 3rd congressional district in south western Washington, might come across the gorge and pick up some Skamania, Klickitat, and maybe part of Yakima county," says Reed.
"This is a great day for the people of Washington. We gain in clout, with another strong voice in Congress to be added in 2012. We gain an Electoral College vote and our population gain means we get a little larger slice of the pie as federal grants are apportioned out based on population," says Reed.
The actual work of divvying up the state in equal-sized congressional districts and legislative districts will be the task of a bipartisan citizen commission. Four voting members - two Republicans and two Democrats - will be appointed by the legislative caucus leaders, and the four will choose a fifth, nonvoting, person to be chairman. The panel will have all of 2011 to develop and finalize the maps, and three of the four voting members must vote for the final product. The Legislature has virtually no role and the governor cannot sign or veto the maps.
The work will be done in time for the November 2012 elections, when we will choose a 10th congressional representative.
Arizona, Georgia, Nevada, South Carolina, and Utah will each also gain one seat, Census Bureau Director Robert Groves announced.
Florida will gain two and Texas will get four new seats, the most.
Illinois, Iowa, Louisiana , Massachusetts, Michigan Missouri New Jersey and Pennsylvania will lose one seat each. Ohio and New York each will lose two.