Domestic Violence is less reported during Christmas
Posted:
Updated: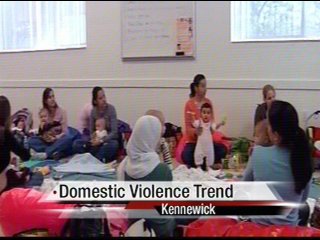 KENNEWICK, Wash. -- The holidays are stressful for many families and it is frequently believed that there is a strong link between an increase in domestic violence and Christmas.
However, there is no proof that is true. Richland Police Officer, Jason Lawrence says, "for the most part it has been pretty slow with domestic calls, I've had one this morning. It picks up right before and right after Christmas , especially like Thanksgiving."
The Executive Director of Domestic Violence Services of Benton and Franklin Counties, Kelly Abken, says there is no way to actually track the abuse but they do get fewer calls from people seeking shelter during Christmas.
"During the holidays our shelter tends to empty out because people want to be home for the holidays. No one wants to be in a shelter during the holidays. So people will come at Thanksgiving and will stay at both holidays and stay through January, so while there are fewer clients, they are staying longer," says Abken.
A study by the National Resource Center on Domestic Violence says there is no link in an increase on Christmas and Domestic Violence. But the same study does say the problem worsens on weekends, nights, during the summer and in the privacy of people's homes.
There is a strong relationship between certain holidays and domestic violence, New Year's Eve has a 2.7 times more domestic violence incidents than any other holiday, followed by Independence Day. July is the month domestic violence crimes are reported.
The same study suggests there are less reports of domestic violence on Valentines Day, Thanksgiving, and Christmas.
If you need help or assistance for domestic violence, please call (509) 582-9841.