Missing man's sister turns to apps
Posted:
Updated: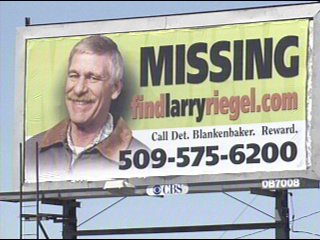 YAKIMA, Wash.. - A Yakima man's sister turns to cell phone application technology in hopes of finding her brother, missing since last Christmas.
Sunday marked the one year anniversary of the disappearance of Susan Vaughn's brother Larry Riegel. Vaughn says she and her family got together for their holiday dinner, but her brother Larry never showed up to the house.
Vaughn and her family have continued to work with detectives from the Yakima Police Department, have hired a private investigator, used social media outlets, and even launched their own website http://findlarryriegel.com/.
Yakima police have told KNDO they are investigating this as a missing persons case, but so far no real leads in locating Larry.
In July, Riegel's family had about four large billboards placed throughout Yakima, each displaying a photo of Larry and a phone number to contact police with any information.
Vaughn tells KNDO she has been working with a graphic designer, the billboard company and developers on a new set of billboards which will incorporate cell phone technology and online apps.
The plan is to have cell phone users, who've download the free Tag Reader app, be able hold their phone up to the specially designed billboards, and have it automatically take them right to the "Find Larry Riegel" website.
Vaughn says she's not planning to give up anytime soon. "I've made a promise to my mom that we would never stop looking. And also to my brother's children, that we would never stop," added Vaughn.
The three new billboards are expected to be up by January 2011. Vaughn says they'll be located at 10th and Washington Avenue, 1st and Lincoln, and Fruitvale Boulevard near 34th Avenue.
Anyone with information about Larry Riegel is asked to contact Detective Blankenbaker, with the Yakima Police Department at 575-6200.