Tri-Cities avoids snow storm
Posted:
Updated: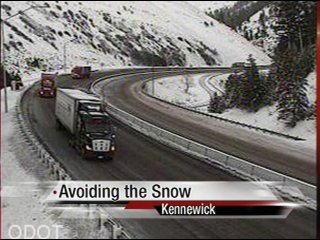 KENNEWICK, Wash. -- Across the state, people are digging out from snow which has covered the area. However, in Yakima and the Tri-Cities, it's dry as a bone.
Residents in the Tri-Cities, are happy it was rain and not snow like the other places. "Yeah, I'm happy. It's pretty nice out compared to those that are getting hit," says Samuel Miller of Kennewick.
And while people are happy the snow is not here, they know it won't last long. "Typical of the Kennewick area, not to get snow at times. But, I really think it's going to come and gets us," says Margaret Beasley.
Right now, from Spokane to Seattle, people are pushing their way through the heavy snow and ice and those conditions have caused many accidents.
"Apparently the conditions, the wind is kicking up, still blowing a lot of snow creating blizzard like conditions and white out conditions which create very hazardous driving circumstances and they just shut it down for that reason," says Tom Strandberg of the Oregon Department of Transportation.
Other places like Interstate 84 were hit by the winter conditions. Blinding snow and wind forced both the east and west bound lanes of the road to close. A semi collision on 1-90 near Snoqualmie caused a 5 mile backup until the early evening hours.
Because of snow and ice conditions on Snoqualmie and Stevens Pass, Washington State Patrol and WSDOT are advising drivers to use snow tires and chains.