Yakima cold weather shelters in need of space and volunteers
Posted:
Updated: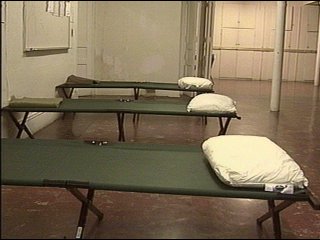 YAKIMA, Wash- The drastic temperature drops are hard enough to take when you've got somewhere warm to spend the night, but the homeless often don't have that option. Those that serve them worry that there will soon be more in need.
GAU, a federal grant that provides assistance to low income families ends tomorrow, which could increase the homeless population. This worries Yakima agencies that work with the homeless because their shelters are already at capacity. Without more volunteers and a new space, they can't open any new ones. They say being able to offer more beds during this weather is an issue of life and death.
"When the temperature at night drops, below freezing, I mean it is people can fall asleep and never wake up. Hypothermia sets in and they'll never wake up", says Ken Trainor the Director of Operations at Sunrise Outreach .
Sunrise Outreach is in need of at least two volunteers to open a new shelter. They also are looking for a space. Their current shelters are churches, but they say all that's needed is a heated room that can sleep 15 people, and has bathroom and kitchen access. They also need donations of blankets, pillows, and sheets.
According to the Homeless Network Of Yakima County, 26 people died homeless in the county this year. Volunteer trainings will be held at Vineyard Christian Fellowship (221 E Martin Luther King Jr Blvd. Yakima) Tuesday January 4 and Tuesday January 11 at 6:30pm. For more information call 509-406-2292 or visit http://www.sunriseoutreachcenter.com/contact.html