2010 has ups and downs for Yakima area law enforcement
Posted:
Updated: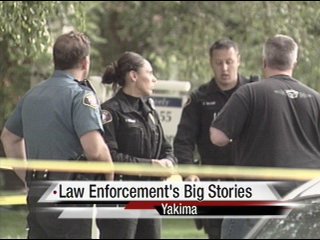 YAKIMA,Wash- 2010 was a busy year for Yakima area law enforcement. There have been 27 homicides so far in the county. That's up from 25 in 2009. 14 of those happened in Yakima alone. Homicides have increased over 62% in the city.
"By and large they represent a crime of passion, which means it's difficult to predict as well as difficult to prevent and so we've had a record year for 2010 but next year we could have none", says Captain Greg Copeland of the Yakima Police Department.
As of October, numbers are also up in the city for larceny theft, which includes car prowls and shoplifting, and for burglary and robbery. But auto theft is down 15.5% and rape has decreased nearly 31.6%.
"Sometimes property crime is kinda like a balloon where you make an effort to squeeze it in one area and it pops out more in another area. That's kinda been the case this year", says Copeland.
Criminals usually get the most attention when it comes to crime coverage. But in 2010, some local law enforcers made headlines themselves.
Yakima police chief Sam Granato announced this month that he will be stepping down. His last day is Friday. He will be temporarily replaced by Captain Copeland during the search for a new chief.
Meanwhile sheriff of nine years Ken Irwin was elected to another term and is battling unions over the layoff of three deputies.
In perhaps the highest profile YSO story of the year Deputy Sean Moore was charged with rape, assault, and burglary in October. His trial is in February
One of the biggest stories and biggest victories for local law enforcement is the establishment of a Safe Streets task force. Agents from the FBI, DEA, and ATF will be on the ground in Yakima collaborating with YPD, YSO, and State Patrol. Law enforcement is still waiting for that money to actually come through, but Captain Copeland says the agencies are set up and ready to go when that happens.