The year in Yakima Fire
Posted:
Updated: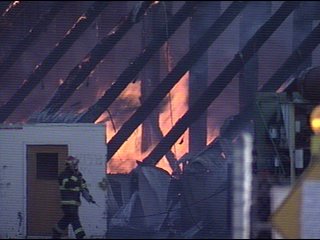 YAKIMA, Wash- Continuing our look back on the major events of 2010 here's a re-cap of some big stories in Yakima-area fire.
It was a law enforcement tribute unlike anything Yakima's ever seen... For a loss unlike anything the Washington State Patrol's ever suffered. Washington State Troopers Gary Miller, Kristopher Sperry, and communications officer Anne Miller Hewitt died in a early morning house fire in Zillah. Their memorial packed the Sundome.
Evacuees of this summer's Cowiche Mill Fire had only minutes to flee as they watched the flames at their doorsteps. Carried by heavy winds the fire burned 6,200 acres including outbuildings, orchards, a home, and a fire truck. It broke out on July 18, and it took 4 days, over 300 firefighters, and about 800 thousand dollars to reach containment. It was ruled arson but no one has been charged.
In another unsolved arson, the old Boise Cascade Mill caught fire three days later. It burned equipment that was going to be auctioned off and caused millions in damage. Over the next two months there were two more accidental fires at that location causing the city to temporarily ban work there.
The Yakima Fire Department responded to over 10,000 calls in 2010 for the first time in department history. They did so in the midst of major changes.
Fire chief of three years Charlie Hines took a job in California. And former deputy chief Dave Willson is serving as the interim chief.
But shortfalls have caused the department to cut back on public services.
"There's a lot of programs that are going to be dropped that are not essential to saving a life that day", says Chief Willson. Willson oversaw budget negotiations where firefighters took a 3 percent pay cut to prevent layoffs. He says a city the size of Yakima should have 120 firefighters, we currently have 86.