Where are homeless staying in extreme cold
Posted:
Updated: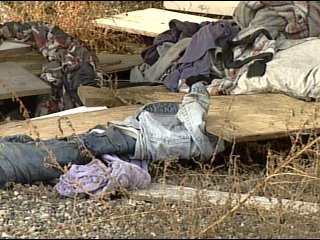 PASCO, Wash. -- Old factories, abandoned houses and cars, spending the night on someone's couch. These are the options the homeless have if they're looking for shelter out of the cold. These people may not be highly visible, but they're around.
"There's a lot of homeless, it's like you don't see us because if we're caught outside and in the little camps, that we have , we make up camps and stuff. If you trust somebody enough to sleep around by them, then it's ok, you're a little safe at night. But you got to hide your stuff during the day,"says Stormy Barnes.
Barnes who has been homeless for six years. She became homeless after a car accident placed her and her husband into financial trouble.
With no connections in the area, she's one of many looking for a place, but that sometimes comes at a cost, "If I get real desperate, it's gets real cold, I can always prostitute and I'll have a warm place to stay,"says Barnes.
Usually the Union Gospel Mission in Pasco is the best option for people like Barnes. But when the only shelter in the area has 80 beds already occupied and 45 people are sleeping on the floor, homeless advocate Steve Gaulke says we need more resources.
"I'm trying to just raise awareness of how we can get the groups together and the community together to say yeah, one shelter cannot meet every body's needs. How do we have other alternatives so at least people will have the option, another option," says Gaulke.
But for Barnes, the options are for shelter are few, "My options are down by a warehouse, sleeping outside bundling up on a pallet. I can try to find a container or something, I don't know anybody in town," says Barnes.
The number of homeless in the Tri-Cities was counted at 433 for 2010. The Benton -Franklin Community Action Center will conduct a new homeless count on January 27th. The center needs volunteers to count the people, and according to the center, they expect that number of homeless to rise.