County launches nitrate treatment program
Posted:
Updated: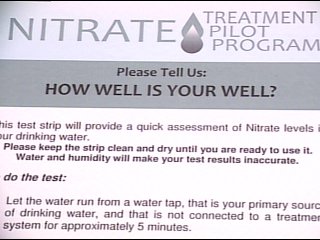 YAKIMA, Wash. -- Yakima county unveiled a new program Tuesday to help residents in the lower valley area concerned with contaminated drinking water.
Representatives from the EPA, health department, state senate and other officials presented the Nitrate Treatment Pilot Program at the Sunnyside Community Center.
Residents will be able to install a system that will purify their ground water coming from the private wells. The county has teamed up with Culligan International on having these systems available for residents who need them.
This comes as welcome news to residents, like James Leidig, of Grandview, who have to go out of their way to get uncontaminated water.
"And to buy water and so forth; to cook with and so on. And you just don't want to be using these high nitrate types of water," Leidig said.
Although, there have not been any reported deaths or cases of illnesses from nitrates in county, Gordon Kelly with the Yakima Health District says nitrates pose risks to women who are pregnant and infants 12 months or younger.
"So what in essence happens is there's less oxygen carried in the blood stream. Therefore, it's less efficient in their metabolism, and they suffer from the oxygen depravation," Kelly said.
The program is using about $400,000 dollars of state money to make the treatment devices available to Lower Valley residents who can't afford them.
For more on the Yakima County Nitrate Treatment System including how to apply for financial assistance for a installing a treatment system click here http://www.yakimacounty.us/nitrateprogram.