More info in AZ shooting; Rep. shot but no increased swelling
Posted:
Updated: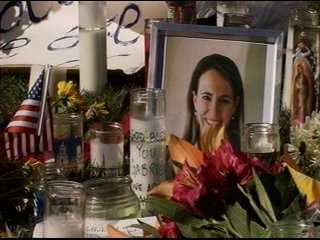 TUCSON, AZ -- Sunday, authorities charged a 22-year-old man described as a pot-smoking loner with trying to assassinate Rep. Gabrielle Giffords and killing others at a political event, revealing that he had scrawled on an envelope the words "my assassination" and "giffords."
The discoveries at his home in southern Arizona, however, provided few answers to a shocked nation, from the victims of Saturday's shooting rampage to lawmakers worried about their safety: What motivated the rampage outside a supermarket that killed six and injured 14. People inside that store intervened.
"He was attempting to change magazines, a woman, who we have the name of, but I don't have, went up and grabbed the magazine and tore it away from him," says Sheriff Clarence Dupnik of Maricopa County in Arizona.
Giffords, 40, lay in intensive care at a Tucson hospital, after being shot in the head at close range. Doctors said she had responded repeatedly to commands to stick out her two fingers, giving them hope she may survive. They said on Monday, they are relieved that Giffords has reached a second day since surgery without increased swelling in her brain.
"I was optimistic yesterday when I saw the case and the amount of injury but overall this is about as good as you are going to get,"say Dr. Peter Rhee.
He says there is no way to tell the extent of any brain damage Giffords may or may not have suffered. Neurosurgeon Dr. Michael LeMole of Tucson's University Medical Center says Giffords is still responding to doctors and her condition is stable. Her brain remains swollen, but the pressure hasn't increased. He says they're much more optimistic.
Of those injured in the deadly shooting Saturday in Tucson, eight are still hospitalized. One is in critical condition. Five are in serious condition, and two in good condition.
A federal judge, a congressional aide and a 9-year-old girl, Christina Taylor Green, were among the six people killed, while Giffords and 13 others were injured.
Court papers filed with the charges against Jared Loughner said he had previous contact with the Democratic lawmaker. The documents said he had received a letter from Giffords in which she thanked him for attending a "Congress on your Corner" event at a mall in Tucson in 2007.
Investigators carrying out a search warrant at his parents' home in a middle-class neighborhood found an envelope in a safe with the words "I planned ahead," "My assassination" and the name "Giffords" next to what appears to be Loughner's signature.
An official familiar with the Arizona shooting investigation said Sunday that local authorities are looking at a possible connection between Loughner and an online group known for white supremacist, anti-immigrant rhetoric.
The official, who spoke on condition of anonymity to discuss the ongoing investigation, said local authorities were examining the American Renaissance website for possible motives. The group's leaders said in a posting on their website that Loughner never subscribed to their magazine, registered for any of the group's conferences or visited their Internet site.
The young man, who lived with his parents, was recently suspended from his community college for disruptive behavior and told he could not return until a mental health professional determined he was not a danger to himself or others.
Police say he purchased the Glock pistol used in the attack at Sportsman's Warehouse in Tucson in November. Authorities believe he acted alone: After questioning a cab driver who drove Loughner to the grocery store, they cleared the driver of any involvement.
Prosecutors charged Loughner with one count of attempted assassination of a member of Congress, two counts of killing an employee of the federal government and two counts of attempting to killing a federal employee. More charges are expected.
Loughner did not have an attorney yet. He is expected to appear in court Monday.
The federal public defender's office in Arizona is seeking an outside attorney to avoid the appearance of conflicts of interest that might arise and plans to ask that San Diego attorney Judy Clarke be appointed to represent Loughner.
Clarke, a former federal public defender in San Diego and Spokane, Wash., served on teams that defended Oklahoma City bombing conspirator Timothy McVeigh, "Unabomber" Ted Kaczynski and Susan Smith, a South Carolina woman who drowned her two sons in 1994.