Rep. Doc Hastings weighs in on security in Washington DC
Posted:
Updated: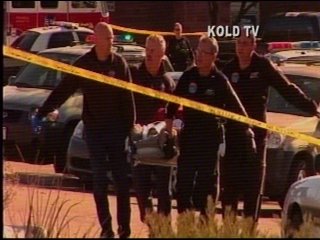 Washington D.C. -- Representative Doc Hastings weighed in on the solemn feeling in the state's capitol.
"The feel here is somber. We had a phone conference here Sunday. From staff to lawmakers to their family, nearly 800 people were on a conference call to discuss the tragedy in Tucson," says Hastngs.
Hastings said he does not feel a security threat. "It is my responsibility as an elected official to interact as often as I possibly can with the people that elected me to represent them in Congress, so I do that. A lot of people have been saying this looks like the sole act of one individual who clearly has some mental problems.. So I don't think you could characterize all the political discourse that's going on and say that is something that's a result of what happened in Tucson," says Hastings.
Meanwhile, the nation got it's first look at the 22-year-old loner accused of trying to assassinate Rep. Gabrielle Giffords. Jared Loughner.
He was in a Phoenix federal court room, head shaved, a cut above the right temple and his hands cuffed.
His attorney, Judy Clarke, who defended "Unabomber" Ted Kaczynski, whispered to him. She once served as a public defender in Spokane from 1992-2002.
The judge asked Loughner if he understood that he could get life in prison - or the death penalty - for killing federal Judge John Roll, one of the six who died in the shooting rampage at Giffords' meeting with constituents on Saturday in Tucson.
The judge ordered Loughner held without bail.
Doctors treating U.S. Rep. Gabrielle Giffords said Monday the congresswoman was responding to verbal commands by raising two fingers of her left hand and even managed to give a thumbs-up.
Giffords, 40, is in critical condition in the intensive care unit of Tucson's University Medical Center after she was shot through the head Saturday during a meet-and-greet with voters outside a supermarket.
Two patients were discharged Sunday night. Eight others, including Giffords, remained hospitalized.