Change in Yakima's government forum packs the house
Posted:
Updated: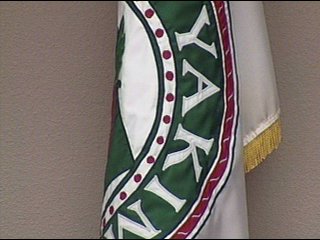 YAKIMA, Wash- About 200 business leaders packed the Red Lion Hotel Monday to hear about a possible shake-up in Yakima's city government. Until now most of the debate about whether to move from a weak mayor to a strong mayor form of government has happened in council chambers. But this afternoon people on both sides of the issue made their case to the business community.
Monday's event was officially a forum not a debate, but there was no shortage of opinions about what structure of government is best for Yakima.
The question of whether Yakima should move from a weak mayor to a strong mayor form of government has been asked and answered before. But a strong push from a few city council members has landed the issue on a February special election ballot.
Prompted by two polls that showed a third of their membership undecided on the issue, the Greater Yakima Chamber of Commerce invited speakers including a Central Washington University professor to provide more information.
"Accountants become city managers but fighter pilots become mayors and it's just are you a vision driven person or a make the trains run person?", says Matthew Manweller, a professor at Central Washington University.
Currently in Yakima the appointed city manager acts as the CEO of the city handling the day to day issues including hiring and firing. The proposed change would give an elected mayor that job along with veto power over the city council.
"I brought my notebook and took notes and got a lot of good information and appreciated it very much", said Tom Froula a member of the Chamber.
"I still have questions and concerns that I will be bringing up with some members", says Pedro Hernandez, Executive Director of the Central Washington Hispanic Chamber of Commerce.
The deadline to register to vote for online or by mail for that election is Monday. However you can still register to vote in person until January 31.