Record year for KNDO coat drive
Posted:
Updated: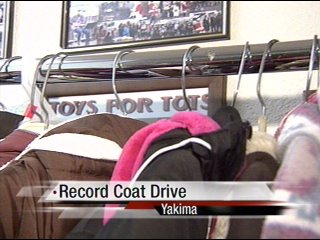 YAKIMA, Wash. -- This year's KNDO Coats for Kids campaign shattered records.
More than 6,400 coats were collected in Ellensburg, Yakima and the Lower Valley area. Those numbers are up about 5,000 coats from last year.
A lot of businesses helped make this year's coat drive a success, including Central Valley Bank and Yakama Legends Casino. The casino collected more than 5,300 coats at their location.
Assistant general manager of Legends Casino Arlen Washines, credits their marketing department for getting the word out, as well as handing out free buffet coupons to those who donated coats.
"There are a lot of patrons that come in, you know, that frequent the casino every day. And when they see something like that happen that's good for the community, then they want to participate, as well," Washines said.
Central Valley Bank has been participating in the KNDO Coats for Kids drive for several years. Bank president Mike Broadhead expressed that CVB has always had a community focus.
"There's a definite need out there in these kind of economic times. And a good thing about this valley is we always raise up and do the right things, in the right times," said Broadhead. "It's very important to us, that we're focused on the youth of this valley because that's our future."
There are still coats available. If your child needs a coat, you can stop by the Salvation Army in Yakima at 9 S. 6th Avenue or call the office directly at 509-453-3139.