Council conducts interviews for interim city manager
Posted:
Updated: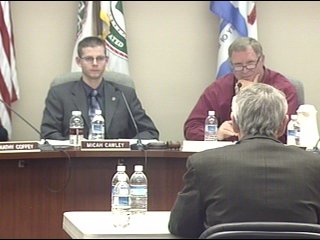 YAKIMA, Wash. -- The Yakima city council held interviews with three candidates Wednesday night for a potential interim city manager.
City manager Dick Zais has already announced he's leaving in July.
Council members individually interviewed former Richland city manager John Darrington, former Spokane city manager Roger Crum, and former Spokane Valley city manager Dave Mercier.
Yakima mayor Micah Cawley feels good to start the process of looking for an interim city manager or acting city manager.
"We had some good interviews and the council's got some time to think and decide what we're going to do in the immediate future, and also look at our long term goals," explained Cawley, "And be able to have some time to make our decisions in the next couple of weeks."
The question of whether Yakima should move from a weak mayor to a strong mayor form of government has been asked and answered before. But a strong push from a few city council members has landed the issue on a February special election ballot.
Currently in Yakima, the appointed city manager acts as the CEO of the city handling the day to day issues including hiring and firing. The proposed change would give an elected mayor that job along with veto power over the city council.
Following Wednesday's special meeting, the council may choose to contract with one of the three candidates for interim management services or may ask Greg Prothman, a local government employment consultant, to provide additional candidates.