Western States "Dump Hunger"
Posted:
Updated: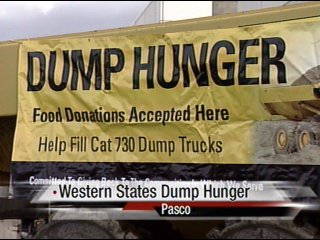 PASCO, Wash.-- For the third year in a row Western States, in Pasco, is holding its "Dump Hunger" food drive.
The goal for the last 2 years has been to fill the back of one dump truck with food. Which adds up to about 75,000 pounds of food. This year, the 13 Western States branches are trying to fill three trucks with approximately 225,000 pounds of food.
Representatives say they know this isn't the typical time of year for a food drive, but that's why it's so important.
"After the holidays all the food banks are empty so we need to replenish them and fill them back up," says Paul Clifford of Western States. "We really care about our community and we want to give back what our community gives to us."
You can donate food at all Tri-Cities Yokes and Albertsons locations. And to get an idea of just how much food is being raised, you can come see the huge trucks at all the Albertsons locations on January 15th & 22nd from 10 a.m. - 4 p.m. Also at all Yokes locations on January 29th at the same time.
The food drive will last until February 7th, then the food raised locally will be distributed to area food banks.
Western States will also be making a matching cash donation of $1 for every 5 pounds of food, up to $15,000.