13-year-old shooting victim in critical condition
Posted:
Updated: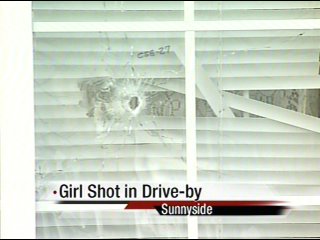 SUNNYSIDE, Wash. -- A 13-year-old girl remains in critical condition Thursday at Harborview Medical Center in Seattle, after she was shot in the chest and leg.
Sunnyside police responded to a drive-by shooting just after 10:00 p.m. Wednesday night on the 1100 block of S. 10th Street.
Police say the girl, whose name is not being released at this time, was in the living room with her family when she was hit.
Elizabeth Villa, the victim's neighbor, tells KNDO bullets went through her fence and landed right in her front yard.
"I was like, 'did they actually hit one of my windows or something?' But as time went by and I came home, I saw that the bullets were right there, and that there were a couple that were right here in front," Villa said.
Charlotte Hinderlider with the Sunnyside Police Department, says it's too early to determine the motive of this shooting. Police have not ruled out whether this shooting is gang related. "This house was not a house that we had previously identified as a gang involved house," Hinderlider said.
"We don't have any suspect information at this time. We're working really diligently, putting a number of man hours into this investigation," explained Hinderlider, "This kind of violence is senseless and we're not going to put up with it."
Anyone who saw suspicious vehicles in the 1100 block of S. 10th Street, around 10:00 p.m. Wednesday, is asked to contact the Sunnyside Police Department at (509) 837-6200.