One local gun shop sees increase in gun sales
Posted:
Updated: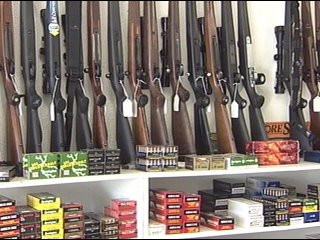 KENNEWICK, Wash. - Tucson's tragic shooting caused a controversy among certain firearms. Some say banning magazine capacity could have prevented the shooting while others say the opposite.
If you look on the National Rifle Association's facebook page you can see they've been posting comments all week in regards to the Tucson shooting saying things like an assault weapon ban would not have prevented the shooting from happening. There's also a lot of talk about lawmakers wanting to limit magazine capacity and according to the Columbia Gun Rack, in downtown Kennewick, it's keeping them busy.
Some big sellers include bulk ammo, high capacity guns and magazines. One worker says they haven't seen sales like this since the Obama Election. In fact, in a normal week they typically sell 1-2 assault rifles but since the shooting they've been selling 4-5 in just 2 days. "I've had a customers in today buying cases of ammo and that's exactly why they are doing it, it's because they were worries about what could happen to high capacity magazines and what could happen there. People are just worried because you never know," said Holly Myers with Columbia Gun Rack.
Myers says all the hype is creating a snowball effect and is good for business. But other stores such as Hole in the Wall, Ranch and Home and Griggs say sales have been the same.