Fresh Fruit and Vegetable Program in Pasco Schools
Posted:
Updated: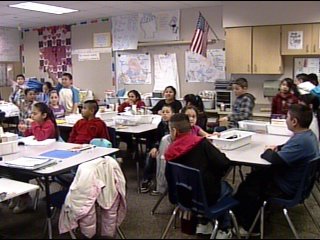 KENNEWICK, Wash.-- Students at some elementary schools in Pasco get to eat fresh fruits and vegetables in class every day. This is the second year of the "Fresh Fruit and Vegetable" Program (FFVP). "The Fresh Fruit and Vegetable Program is a federally funded grant. It is free money from the government to incorporate fresh fruits and vegetables into the public school systems," explains Karla Lamberto, Budget Technician for the FFVP in the Pasco School District.
Every morning, students at Virginia Robinson Elementary and six other elementary schools in Pasco get a special snack, usually a fresh piece of fruit or some veggies in a small plastic bag. Snacks have included apples, apricots, kiwi, pluots, strawberries, avocado, cucumbers, leeks, tomatoes, and zucchini.
Last year the program was only at Virgie Robinson Elementary, but has expanded this year. Now, 4,500 students from kindergarten through 5th grade in the Pasco School District eat the fresh snacks every day. PSD received $225,000 from the Federal Government to pay for it. Only schools with at least 50% of students qualifying for free or reduced lunches can apply. No other districts in the Tri-Cities participates. Close districts with the program in some schools include Sunnyside, Toppenish, Union Gap, and Yakima. Megan Nelson, principal of Robinson Elementary, says, "A lot of times, kids in poverty don't get the opportunity to have these kinds of foods available to them and it makes a huge difference not only for their well being but their health."
Pasco School District hopes to be able to expand the program into more schools next year. Already the FFVP has received funding for next year, $2.8 million nationally, that's up from $2 of funding this year.