Funeral held Monday for Granger soldier
Posted:
Updated: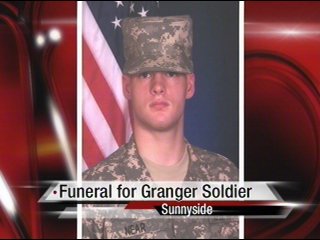 SUNNYSIDE, Wash. -- Family and friends gathered in Sunnyside Monday to remember Army private first class Robert Near.
The 21-year-old Granger native died in combat more than a week ago.
A funeral service was held Monday at the Smith Funeral Home, followed by a burial service at the Lower Valley Memorial Gardens.
Near's family recently told us he had been deployed to Afghanistan in April, and was due to return home within a few weeks.
Larry Griffith, Northeast district captain for the Washington State Patriot Guard Riders, spoke on behalf of the Near family. "The family is just very appreciative and a little overwhelmed at the community support that they've gotten, since we first learned of Robert's passing. I guess that just they're biggest message, it's nice to be in a caring community."
We spoke to a Prosser woman whose son was killed in Iraq in 2004. "This means the world to me to be here, to be able to some way show my appreciation... to all the military. And the tough times they're going through," Charlotte Best said.
"Losing a soldier .. it always affects all of us. All of our community because having a son in the military it really brings it close to home," Miguel Pineda, whose son is currently serving in the military.
Robert James Near was born in Woodland, CA on November 18, 1989 to Dale and LuAnn Scott. His family says when Robert was 2 years old, he and his father moved to Granger.
Near graduated from Granger High School in 2007. Afterwards, he continued his education with the Nampa, Idaho Job Corps. Upon his graduation in 2009, Robert enlisted with the United States Army.
Robert leaves behind his father, a brother, three sisters, all from California, along with his grandmother who lives in Granger.