Pasco School District looking at year round school schedule
Posted:
Updated: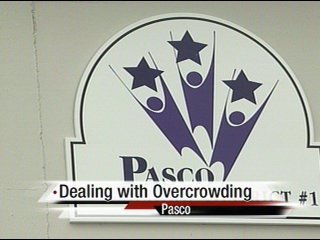 PASCO, Wash. -- Facing overcrowding, the Pasco School District is considering a variety of options. One of them may be a multi track school year, meaning classes all year long.
Portables are a common site at many schools throughout the district. The portables are set up to deal with the issue of overcrowding in many of it's existing school buildings. School leaders are examining whether a multi-track works best to fix their problem.
"That allows you as a building or as a district to increase your capacity by 25 percent," says Pasco School Administrator, John Morgan.
Under a multi-track system, the school is broken into four groups that are staggered, so three tracks are attending school at any one time. Classes would be held year round, but students would still have the equivalent of a shortened summer break. Many problems are connected to overcrowded classrooms, most commonly a drop in grades. But do parents support the idea?
"I would like if they had more options available. Like I wanted my daughter to be in online school, and I had to pull her out of Pasco school to do it," says parent Tina Hart. While people like Hart want more options, folks like Julie Allenby like things the way they are, "I don't think it would be healthy for a kid to go to school all the time."
School administrators maintain this is just an idea they're considering, but stress their current solution is fading fast. And no formal plan to deal with this issue has been set.
"We will continue to look at the portable scenarios but we're getting to a stage where infrastructure in current buildings to handle those portables is becoming at a critical level," says Morgan.
A formal meeting will be held Thursday night between 6 and 8 PM at the Booth building on 1215 W. Lewis Street in Pasco. School administrators will meet with experts and community members to discuss what's the best plan for Pasco schools.