Yakima leaders head to Olympia to support anti-gang bill
Posted:
Updated: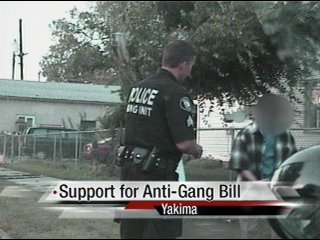 YAKIMA, Wash- Some Yakima leaders will be in Olympia Wednesday to show their support for a proposed anti-gang law. Rob McKenna presented that bill to the public last fall and many in the Yakima leadership rallied around it.
However the bill has changed some from the version presented in November.
The original bill included funding for gang prevention and intervention programs. But due to budget issues that's been cut out. This may lead some lawmakers to drop their support of the bill, something local advocates are trying to prevent.
Wednesday Yakima leaders including Commissioner Kevin Bouchey, Sheriff Ken Irwin, YPD Sergeant Eric Hildebrand, and 14th District Representative Charles Ross will testify before the house public safety committee about why they believe that even without intervention and prevention programs the bill is still vital to the community.
"We still need to move forward on this bill. Let's not kill the bill because that section is not here", says Kevin Bouchey the Chair of the Yakima County Gang Commission.
"There are still parts of it we can do such as the injunctions and increase the penalties because we need to keep moving forward on this problem", emphasized Yakima County Sheriff Ken Irwin.
If passed the law would make gang-related behaviors that are not already crimes misdemeanor offenses. The bill also seeks to impose tougher sentencing.
Street-gang related gun offenses would not be eligible for deferral. Meaning judges could not avoid finding gun offenders guilty of a crime. When dealing with adult gang members, the penalties for gang activity near schools or school related property would double.
The scope of the gang intimidation law would also expand. It's currently illegal to threaten someone for refusing to join a gang but only if the person being threatened or doing the threatening is a public school student.
The bill still has a ways to go. Assuming it is voted out of committee and makes it through the house, it still needs to make it through the senate. Then the house and senate versions of the bills would have to be reconciled.