Egypt bus crash victim speaks
Posted:
Updated: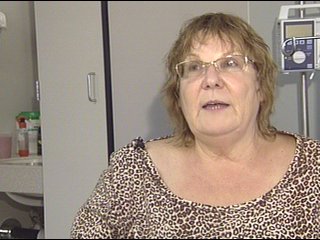 PASCO, Wash. -- Sue Flink is recovering at Lourdes Medical Center three weeks after a tour crash in Aswan, Egypt claimed the lives of eight Americans and injured 21 others. Sue was amongst the injured, but her partner of 30 years, Mike Braun did not survive. The couple lived together in their Kennewick home for many years.
"I have a compound fracture and a bone through here, so I have an open wound here, and a rod going through this leg," Flink describes her injuries in her wheelchair. With two broken legs, and recovering from surgery, Flink hopes to walk again soon.
"This one will be 13 weeks and this if I was 16 would be 6 weeks."
Flink says although she has a lot of recovery, physical and emotional in front of her, she still has lots to be grateful for.
"I have a full life, so this is one aspect that won't be full, but the rest of my life will be full. I have a lot of people there for me, cards, flowers, phone calls. My support system is great," says Flink.
The 61 year old Finley Elementary School Special Needs Teacher hopes to return to the class room by spring. "I need both of my legs to chase after the four and five year olds, says Flink.
"But as soon as I saw my daughter arrive at that hospital in Egypt, I saw my reason to live."
Braun will have a memorial service in Pasco as soon as Flink feels strong enough to organize it. He will then have a funeral service in Odessa, where he is originally from.